[ad_1]

Food Flower Future founder Khara Pechtes has been hosting cannabis-infused gatherings in the Los Angeles area since 2017, bringing people together through a love for fine food, fellowship, and sun-grown cannabis.
Previous events have included a brunch during Pride Month and a springtime dinner with a Mediterranean-themed menu, and Pechtes makes sure to always feature vegan options as well as generous samplings of sun-grown cannabis which are carefully paired with each course during the meal.
Pairing is a concept that can be applied to nearly everything in the universe, so thoughtfully partnering expertly-crafted cuisine with carefully cultivated cannabis makes complete sense.
Candid Chronicle was graciously provided the opportunity to attend the most recent Food Flower Future event; an elegant summertime dinner in the North County area of San Diego.
The evening marked the sixth cannabis-infused dinner that Pechtes has hosted since Food Flower Future's inception and the beginning of the Alta Dinner Series which is part of the event's expansion into the San Diego area.
For this event, Pechtes collaborated with floral arrangement artist Jasmine Sessions of Heavy Petal Creative.
The dinner was held at a private Oceanside residence which provided guests with panoramic views of the coast and a peaceful setting during the comfortably cool Saturday evening.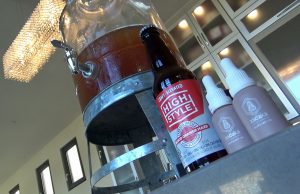 As the afternoon sun started to make its westward exit toward the Pacific Ocean horizon, the evening commenced and guests began trickling into the multi-leveled coastal home, making their way up to the rooftop patio to enjoy mocktails and mingle with the event's sponsors and other guests before dinner.
The mocktails were a flavorful sweet infusion of High Style's non-alcoholic Blood Orange Haze brew, blood orange juice, simple syrup, and Zadaka hemp-MCT-CBD oil; a combination that paired nicely with the Athena Cherry prerolls that were provided by sustainable cannabis company, Aster Farms.
The evening's meal was expertly crafted by married Mangia Ghanja founders Anne and Ivan who treated guests to their first taste of the night with beautiful squares of polenta cake topped with sauce vierge as a first-course appetizer.
As guests made their way to their seats and dinner began, Nick Holstein from Flow Kanatalked a bit about the Lime Juice prerolls which had been paired with the second course of the evening; a chilled watermelon soup that was wonderfully accented with crisp chamoe melon, cucumber, lime, basil, extra virgin olive oil (EVOO), and Durban Poison terpenes.
"We thought it would be a perfect pair," said Holstein, noting that the soup was infused with terpinolene, a piney, citrusy terpene found in limes.
The prelude to the next course a sampling of organic ice hash-infused Sour Diesel prerolls from Aloha Humboldt which were deliciously smooth and sweet, setting the mood for what came next.
The beet and burrata salad brought out for the third course was a sweet and tangy fusion of red and candy beets, arugula, burrata, orange pomegranate, EVOO, blood orange vinaigrette, and cannabis-infused blood orange jellies from 3 Leaf Edibles.
Before guests were presented with the main course, Stef Chen-Welch from Aster Farms expressed her gratitude for the opportunity to take part in the evening, talking about the cultural importance of gathering together for a meal.
"Cultures are usually based on food," said Chen-Welch. "So we're all coming together for food, we're all coming together for flower, and yes, this is the future."
She talked for a few moments about the Aster Farms Deep Sour Kush prerolls, explaining how the strain's peppery terpene, beta-caryophyllene, would pair well with the savory main course and help set the tone for the remaining moments of the evening.
While meat-eating guests were treated to tender and flavorful cuts of grilled hangar steak chimichurri which were tastefully topped with parsley, mint, garlic, jalapeńo, panko, red wine vinegar, and EVOO, vegan and vegetarian guests enjoyed charred cauliflower steaks with olive pistou, harissa, EVOO, and shiitake mushrooms.
Savory grilled bread was served with both main courses.
After finishing the main course, guests made their way back up to the rooftop patio to socialize and enjoy CBD prerolls under the stars while Anne and Ivan worked busily in the kitchen preparing the evening meal's delectable and tantalizing dessert.
When everyone returned to the dining room, they found their plates crowned with bowls of warm raspberry soufflé, each one topped with a raspberry and powdered sugar and garnished with a cannabis leaf-embossed square of chocolate ganache.
As the evening came to a close, guests received gift bags containing bottles of High Style Coastal Haze, Cannabomb Blood Orange bath bombs, CBDA tincture and flower seeds from Professor Snook's, Pet-Ness dog treats, Kinslips sublingual strips, Cien Coco infused honey, edibles from Babinka Treats, and prerolls from Aloha Humboldt, Flow Kana, and Aster Farms.
Every Food Flower Future event is a unique gathering and gives guests something special to look forward to as each one is held in a different location and features new chefs.
Following a short break for the remainder of the summer, Pechtes has scheduled the next Food Flower Future cannabis-infused dinner to take place at a private location in Los Angeles on Saturday, October 5 at 7:00 p.m.
Seating is limited so interested parties are encouraged to secure their tickets before they sell out.
For more information about Food Flower Future and upcoming events, visit the company's website, Instagram profile, or Facebook page.

84


[ad_2]