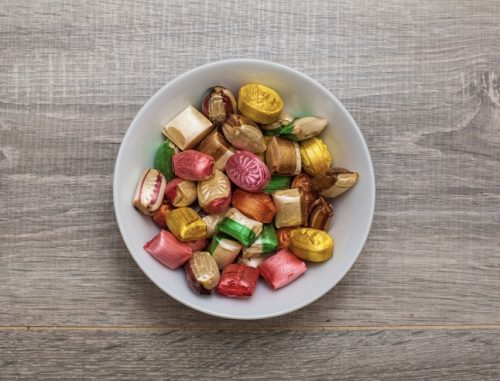 Servings: 50 Candies
Calories: 44kcal
THC: 10mg per candy
Author: Steph Van De Ven
2 – 3

Tbsp

cannabis tincture

500mg THC

2

Cups

Sugar

2/3

Cup

corn syrup

1/4

Cup

Water

1/2

Tsp

Flavored extract

optional

Food coloring

optional
In a medium sauce pan mix together the sugar, syrup and water.

Let it come to a boil and slowly stir mixture untill around 250F.

Once it reaches 250F, you need to stop stirring and let it come to approximately 305F. ( this happends quick)

Once your hard candy mixture is at around 305F, remove it from the heat.

Add cannabis tincture, flavor extract and food coloring. Stir it up and poor into your candy mold or baking sheet.

Let the cannabis candies cool down and harden before removing it from the mold.

Enjoy your canna candies!
Tip! If the hard candies are cloudy or foamy looking: once the mixture is taken off the heat, let it sit for 30 second untill all foam has gone down, before pouring into molds.
Serving: 1Candy | Calories: 44kcal | Carbohydrates: 11g | Fat: 1g | Sodium: 3mg | Sugar: 11g | Calcium: 1mg | Iron: 1mg