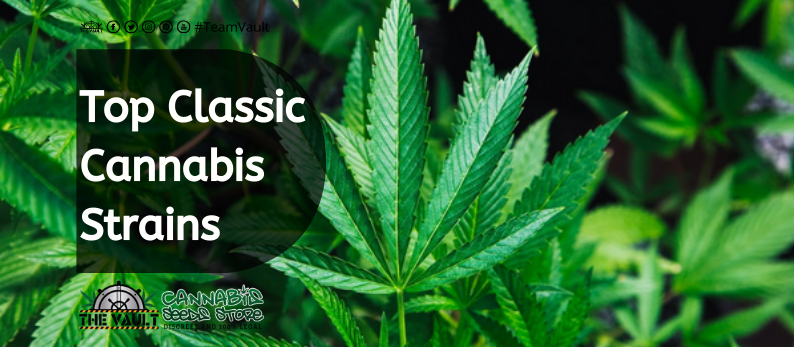 This is a difficult list to put together simply because I only have a couple of pages to list the best classic strains on the market. There are hundreds of incredible classic cannabis strains available, so it's difficult to pick just a few. I am going to try and produce a varied list of strains so that there is something for every kind of grower and smoker. We are going to look at classics brought into the modern-day, that means autoflowering, feminised and CBD heavy versions of already popular and old school strains. For all of the old school and new school growers out there, please enjoy this collection of elite strains.
Of course, this list had to start with White Widow, the classic cannabis strain. This version is feminised which means it will only grow into female plants. The reputation of this strain surpasses pretty much every other. White Widow has been around for decades and has definitely earned its popularity. It is most famous for its impressive resin coating, hence the name White Widow. Also for its effect which is unrivalled by any other, what really gives it its reputation. This strain gives smokers everything they could possibly need. It is simultaneously euphoric, uplifting, creative, soothing, relaxing, sleepy and comfortable. It is pretty strong so if enough is smoked it will also pull out the couchlock in a big way. This version will take around 8 weeks to flower and can be grown indoors, outdoors or in a greenhouse.
This strain has been around since the 70s and cannot be left off a list of classics. This particular version is regular, so basically as classic as it can get. This strain is Sativa dominant and is the best strain for those who need a little perking up. The effect is uplifting, energetic and very cerebral with a spicy, hazy taste. This is the perfect strain for a summers day, scampering around a field, maybe going camping. Durban Poison is potent and produces impressive yields of dense, resinous buds. It is also resistant to mould and pests which makes it great for outdoor growing. It also grows well indoors or in a greenhouse and takes about 56 – 63 days to flower.
This is another ultra classic up there with White Widow, and this version is both autoflowering and feminised. Autoflowering means the plants will flower on their own rather than as the result of a light cycle. Since this version is feminised it will only grow into female plants. Northern Lights is one of the most popular strains on the market and has been around for decades. During this time it has also been used as the base for a number of other popular strains. This strain is also known for its appearance, being completely covered in a glittering coating of resin. Northern Lights is also known as the strain for insomnia sufferers. It is soporific but soothing and comfortable which means it allows for the perfect night's sleep. This version will take 6 – 8 weeks to grow indoors and 10 – 11 weeks to grow outdoors.
Sour Diesel is an Indica Stiva cross that is well known for its trademark scent and powerful effect. The name very much comes from the scent which is intense and is reminiscent of kerosene. Despite this strain being a hybrid, the effect is energetic and uplifting, perfect for daytime use. It is also creative and motivational, perfect for finally getting started on that lockdown project or using those expensive craft materials purchased online late at night. It is extremely lucid which is ideal for those who usually struggle with the misty brained confusion of a powerful strain. This version is a classic regular strain and will take around 9 – 10 weeks to grow indoors, outdoors or in a greenhouse.
This gorgeous and pungent classic comes from the UK and has been extremely popular since it first came out in the early 90s. She was particularly popular in the rave scene due to her uplifting effect. Despite it being a happy high it can be quite intensely soporific if used to excess. This can make it a perfect nighttime strain for anyone who is struggling with insomnia or night terrors. Unlike most strains, the flavour and scent are extremely savoury. When growing this strain indoors it is usually a good idea to allow for ventilation as the scent can be powerful. The THC content is an impressive 21% and this version of Cheese is feminised. It will take around 56 days to grow and can be grown indoors or outdoors.
As many of us know Skunk has become synonymous with potency. Many strains are referred to as Skunk strains purely to put across their power, even if they don't have Skunk genetics. Skunk #1 is the original power strain, with a scent to match. This particular version is autoflowering and feminised, providing all that power in an easy to grow package. Skunk isn't just famous but actually has played an integral part in modern cannabis growing. She has also been used as a base for a ridiculous number of modern, impressive strains. Skunk #1 is an Indica dominant strain, but its effect feels more like that of a hybrid. It is extremely relaxing and soothing but energetic at the same time. The scent is sweet and powerful with a distinct Skunk, earthy kick that sets it apart from any other classic strain. This strain can be grown indoors, outdoors or in a greenhouse and will take about 40 – 55 days to flower.
As I say these are just a few of the incredible classic cannabis strains available. There are several others that deserve mention, and it is definitely worth doing some research before deciding on a classic to try. As always have a look through all the strains available, there is a classic for everyone.
Remember: It is illegal to germinate cannabis seeds in many countries including the UK. It is our duty to inform you of this fact and to urge you to obey all of your local laws to the letter. The Vault only ever sells or sends out seeds for souvenir, collection or novelty purposes.
Make sure you never miss another Vault promo and sign up for our newsletter at http://goo.gl/Bt2Ba2