Okay – before I continue with this article I wish to make things VERY CLEAR. This is an opinion – it's my opinion and it is only meant to be taken as such. Whatever you do with this opinion is entirely your business. I will not be held responsible for anything you do and any sub sequential issues that may arise due to your behavior.
Got it?
Okay – now let's continue.
So you're thinking of growing weed – when it's legal! Sure you could do that, but why wait? Why not start your own mini cannabis grow right now? In the following article I'm going to be addressing the major reasons why people "don't" grow weed illegally, and why you should ignore that and do it anyway – but right.
But What if I get busted?
This is one of the major concerns for people. Getting busted is extremely difficult if you go about it the right way. If you read most of the headlines that talk about people, getting busted there is one thing that is the same – the quantity of plants.
If you keep a relatively small number of plants – let's say less than six and no more than ten, you could easily grow cannabis for years without anyone ever knowing about it. Of course, you'd also need to ensure that there isn't any smell leakage, and you should most definitely keep your mouth shut about your operations.
Only EVER tell those you can truly trust. Even a good friend can perhaps slip that you have a cannabis grow and then the next thing you know, there's cops knocking at your door.
Here's how you don't get busted:
Grow small manageable quantities
Have a quick disposal protocol [just in case]
Don't tell anyone!
Keep a low profile – don't make people ever think you're growing weed.
If you're living in a state that deems cannabis as "illegal", you want to be as low profile as a "serial killer". Go about your business behind closed doors, but be a model citizen once you're outside.
Won't it cost a lot?
Another major concern for people is that it will cost a lot of money to grow weed. This is true, if you decide to make it expensive. But growing weed can be as expensive as growing any other garden plant.
If you really want to keep it cheap, I'd recommend investing in a bit of coconut substrate and some good organic soil. Mix them together at the right proportions [do your research] and simply water the plant every other day. Keep on checking in on it like you would any other plant and eventually you'll strike gold.
If you're determined to grow indoors, then you can always use a CFL grow system where you take about 4-large CFL lights with a combined luminosity over 6000 lumens – and you've got a low-scale indoor grow room using soil.
At most, you'd need a timer.
These plants won't grow big, but if you get organized, it can crop consistently. Essentially, you should sprout 4 new plants every 2 months once you have a consistent flow. This will ensure that the odds of getting females is in your favor and if you plan it out correctly, you can harvest monthly.
I don't have any seeds!
This is probably the biggest hurdle for people to get over – where do I get seeds? Can I simply order them online? Wouldn't they track me? In this case, I'd recommend finding someone to help you get seeds….even if you only have access to "bag seed", you should grow it.
If you properly grow a cannabis plant, you can increase its potency. I have taken some of the shittiest bag seeds on the planet and with enough care and attention, got a very decent smoke. I'm talking about cropping out average 8-10% on weed that was arguably a potent "hemp".
Don't be afraid, take calculated risks
If there is one thing I recommend to everyone I meet it's, "Grow some weed, even if it's for aesthetics". Just going through the crop cycle once is enough to give you a fresh new perspective on the plant. It makes you appreciate just what goes into getting the weed you like to smoke.
Eventually, it will be legal everywhere. I suppose that means you could wait for it to be legal where you are, but, as someone who has been growing on and off for years, even in the most strictest places, if you have a good protocol – you'd be fine.
Start small and don't ever go big unless you're going into the legal market or you're well aware of the risks of growing illegally.
Even if it's just one plant – grow!
GROWING WEED AT HOME ON A BUDGET, READ MORE…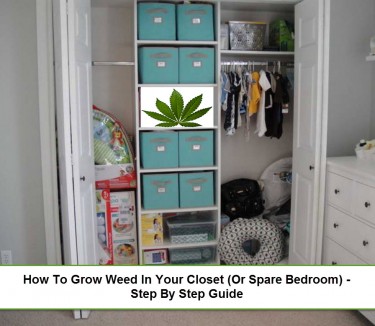 HOW TO GROW WEED IN YOUR CLOSET, A STEP BY STEP GUIDE!
OR..
HOW TO GROW WEED AT HOME ON A $50 BUDGET, OUR TIPS AND TRICKS!