Overall CBDC Brand Rating for Cannadips: 6/10
The California-based CBD brand Cannadips aims to produce a great-tasting and superior alternative to traditional tobacco dips using cannabidiol (CBD) as the main ingredient.
Even though the brand has a limited product range, Cannadips prides itself on its CBD dip pouches, which it claims to be free of tetrahydrocannabinol (THC), nicotine, and tobacco. However, the source of hemp and extraction methods for the products are not specified.
Cannadips says that its products are water-soluble and formulated to deliver fast-acting benefits. A study noted that water-soluble CBD has a better bioavailability or absorption compared to fat-soluble(1).
Water-solubility is an essential characteristic of the Cannadips' products to maximize the full effects of the CBD-infused pouches. These products are administered between the inner lips and gums, so the contents are naturally released through saliva. They may stay wedged between the inner lips and gums for 30 to 45 minutes.
Unlike the traditional tobacco dips, these CBD-infused pouches come in various flavors, like natural mint, fresh Wintergreen, tangy citrus, tropical mango, and American Spice. Each dip pouch has 10mg of CBD.
Other brand review sites and affiliate websites give instructions on the proper use and dosage of the Cannadips CBD dip pouches. However, the brand's main website does not include this information.
Cannadips offers free shipping for its California Roll 5-pack orders within the US.
Cannadips Company Summary
In 2016, Cannadips Chief Executive Officer Case Mandel

established the company in Humboldt County, California. Its core mission is to be a brand that continues the craftsmanship of its community in Humboldt.

According to the website, the concept of Cannadips started as an idea to decrease the use of snus or smokeless tobacco.

Cannadips claims to develop a proprietary process to produce CBD-infused dip pouches with its partners in Lexaria Biosciences.

Lexaria Corporation is a pharmaceutical

company

that

aims to increase the efficiency and absorption rate of fat-soluble molecules ingested orally.

Cannadips EU, the brand's

sister company, aims to deliver the brand's CBD-infused pouches from Humboldt, California, to Europe.
Cannadips Pros and Cons
| | |
| --- | --- |
| Pros | Cons |
| Assorted flavors | Limited range of products |
| Water-soluble products | Source of hemp not specified |
| Free shipping available | Extraction method not specified |
| | Limited information available on the product page |
Pros of Cannadips
The company is proud of its CBD products

that are

designed to have long-lasting and great-tasting flavor profiles. These assorted flavors may be appealing to first-time users of CBD-infused dip pouches.

Cannadips claims that its products are water-soluble with high bioavailability. Bioavailability

is

the ability of a substance to be absorbed and utilized by the body. A study on CBD oral preparation state

d

that water-soluble CBD

is

approximately 4.5

times

more bioavailable than lipid-soluble CBD(2)

.

The brand offers free shipping for the Cannadips California Roll 5-pack orders. A 10% discount

also applies

to your first purchase.
Cons of Cannadips
Review of
Cannadips Products
Cannadips CBD-Infused Pouches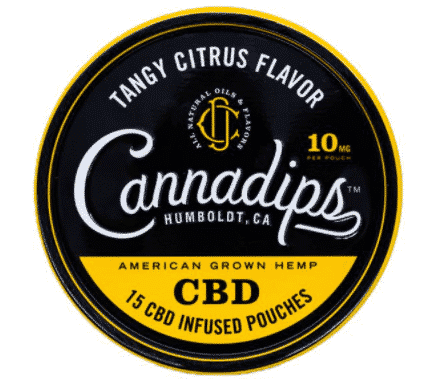 The flagship product of Cannadips is its CBD–infused pouch made with coconut fiber and organic palm oil.
Cannadips CBD-infused pouches are made to be water-soluble and aim to deliver fast-acting relief. They are designed to be discreet with their non-visible, smokeless, and spitless pouch.
The brand claims that these pouches may begin to work in under 15 minutes. However, this claim has not been mentioned in most product reviews.
American Spice is the brand's full-American flavor with a blend of cinnamon, chocolate, and a hint of craft coffee.
Other flavors include the best-selling tangy citrus flavor with sour orange and tart lemon, fresh Wintergreen flavor that is the brand's terpene blend, and the natural mint flavor with a mix with monk fruit and palm oil.
Each tin of CBD-infused pouches has 150mg of water-dispersible CBD. The dosing instructions are not indicated on the product pages.
Cannadips Zkittles CBD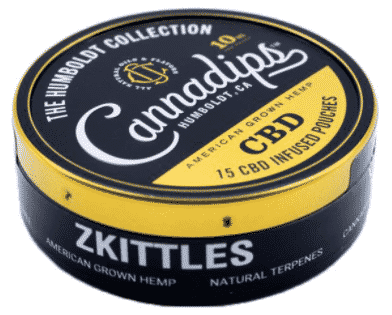 This product variant is a mix of Grape Ape and grapefruit blended with a strain bred by the 3rd Generation Family, a California-based company that consists of group breeders in the state, and Terp Hogz Platinum Seeds, the creators of the Zkittles marijuana variety.
Cannadips Zkittles CBD is also available in Pennsylvania's local convenience store called Sheetz.
Cannadips OG Kush CBD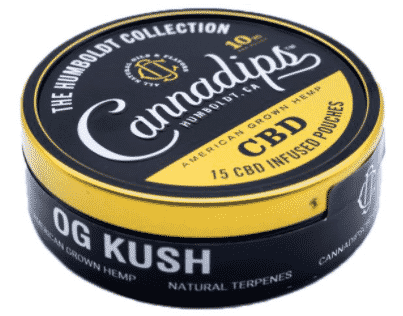 Cannadips OG Kush CBD was first cultivated in the 1990s in Florida, California. According to the product page, OG Kush is the genetic backbone of West Coast cannabis varieties.
However, this product is not available on the brand's website as of December 2020.
Product Summary
Recommended for

Optimizing wellness

Source of Hemp

Not specified

Popular Products
Cannadips CBD pouches
Types Sold
Broad-spectrum CBD
Range of Products/Forms
CBD dip pouches
Price Range
$9.99 for a 15-pouch tin of Cannadips CBD pouches
Extraction Method

Not specified

Lab Testing Transparency & Availability

COA is available on the website

CBD Concentration per Serving Range

According to the COA dated

September

2018,

the Cannadips Tangy Citrus CBD pouch contains 150mg of CBD.
Potency

According to the COA dated May 2020, the Cannadips

Tropical Mango CBD pouch contains 10.1mg of CBD.
THC Range of Products %

Non-detect

Flavors

Assorted flavors

Tincture Carrier Oil
Organic palm oil
Lab Results

Third-party lab tested

Shipping/Delivery

Ships in the USA and Europe

Guarantee

No money-back guarantee

Refund Policy

30-day return and refund policy

Contaminants

No information available

Vegan and Gluten-free

Not indicated

Customer Service

Email: [email protected]

Country Served

The USA and Europe
Optimizing Wellness
The Cannadips brand strives to produce smokeless CBD-infused dip pouches formulated to enhance overall well-being and maximize CBD's health benefits.
The company aims to provide delectable alternatives to traditional tobacco dips. Cannadips believes that its CBD-infused products may be a healthy smokeless alternative for people who want to reduce their nicotine intake.
Source of Hemp
The brand did not specify the farm and the state where it obtained its American Hemp.
Hemp is a term used to identify cannabis varieties with less than 0.3% THC level in dry weight. CBD is hemp's primary phytocompound(3).
Popular Products
The brand's top product is its Cannadips Broad-Spectrum 150mg CBD-Infused Dips in tangy citrus flavor. Another best-seller is the American Spice flavor.
Types Sold
Cannadips uses broad-spectrum hemp-derived CBD, which it claims to have terpenes and other cannabinoids without the THC.
Range of Products/ Forms
The brand does not have a broad CBD line of products. Instead, it focuses on CBD-infused dip pouches.
Price Range
The Cannadips CBD-Infused Dip Pouches' regular price is $9.99 per tin, while the 5-pack California Roll's stock price is $49.95.
The method used in obtaining the broad-spectrum CBD utilized in Cannadips CBD-infused dip pouches is not specified.
The first step in separating natural compounds from raw materials is extraction. Some of the methods used in extracting these natural compounds include distillation, solvent extraction, and sublimation(4).
Lab Testing Transparency and Availability
The certificate of analysis (COA) is available on the brand website. However, it is dated May and June 2020. More recent lab results are currently not accessible.
CBD Concentration per Serving Range
The COA dated September 2018 states that each tin of the Cannadips CBD-Infused Dip Pouches contains 150mg of CBD.
Potency
The COA dated May 2020 indicates that the Cannadips Tropical Mango CBD pouch has 10.1mg of CBD per serving.
THC Range of Products %
Cannadips claims that its CBD products are THC-free. The COA dated May 2020 verifies that the brand's CBD-infused dip pouches do not have any THC.
Hemp-derived CBD with less than 0.3% THC in dry weight is federally legal in the United States under the 2018 Farm Bill(5).
Flavors
The core flavors of Cannadips' CBD-infused pouches include natural mint flavor, fresh Wintergreen, tangy citrus, tropical mango, and American Spice. These flavors may be appealing to first-time Cannadips users.
Tincture Carrier Oil
The brand claims to use organic palm oil in its CBD products. The European website of Cannadips provides certifications about the sustainable palm oil used in the brand's products.
Lab Results
Cannadips CBD products are third-party lab tested. According to the brand's website, these third-party lab results determine the cannabinoid profile and hemp extract potency of each product.
Cannadips claims that the company's quality control standards aim to exceed the current industry standards.
Shipping/Delivery
Cannadips ships its products within California and most of the states in the US. It also has a European-based affiliate company that delivers to the United Kingdom, Sweden, Germany, Italy, and France.
Guarantee
Cannadips assures its customers of the highest quality ingredients of its products. However, the brand does not offer any product guarantee.
Refund Policy
The company's 30-day refund policy applies to unused and unopened orders. A notification via email is sent once the refund has been approved.
Returned products are inspected, and approval or rejection of the refund is sent via email. Approved refunds are automatically credited to the mode of payment used.
Contaminants
Cannadips claims that its products are safe and made from all-natural ingredients. However, the lab result for the contaminants is not included in the COA.
There is no way to verify product safety.
Vegan and Gluten-free
The brand did not indicate if its products' ingredients are vegan or gluten-free.
The ingredients for CBD-infused pouches are not indicated on the main website's product pages.
Customer Service
For Cannadips users from the United States, you may email the brand at [email protected]. Meanwhile, European customers may email [email protected] for concerns about their orders.
Country Served
The brand is based in California, USA. However, the brand has a sister company that caters to European countries.
Cannadips users in Europe may need to research their specific country's guidelines before ordering from the Cannadips website.
More About Cannadips
The brand aims to deliver THC-free, tobacco-free, and nicotine-free CBD formulations that may be healthy, smokeless alternatives to tobacco chewing and tobacco dips.
A study discussed how tobacco is responsible for 6.4 million deaths in 2010(6). It was also noted that tobacco and alcohol caused almost 12% of global disability(7).
Cannadips claims that its CBD products are made using the Lexaria Biosciences' DehydraTech process. This technology claims to mask unwanted tastes, reduce onset time, avoid first-pass liver metabolism, and increase bio-absorption and brain permeation(8).
Lexaria Biosciences claims that the DehyraTech process is patented for cannabis and hemp, nicotine, and nonsteroidal anti-inflammatory drugs (NSAIDS)(9).
Despite the brand's innovations, there are reports about lawsuits against the company and Cannadips founder, Case Mandel. He was accused of fraud, breach of contract, violation of the Nevada Deceptive Trade Act, and negligent misrepresentation due to his failure to pay up the company loans(10).
Still, consumers continue to patronize the brand. Customer reviews state that Cannadips' CBD products are made with cane sugar, vegetable glycerol, maltodextrin, and coconut fiber. Other brand communication materials not found on the website also state that its dip pouches have xanthan gum.
According to the brand's European website, a pouch of Cannadips CBD-Infused Pouches may be inserted between the lips and gums.
The brand also caters to wholesale requests. A specific page on the brand's website includes a form for bulk orders of Cannadips CBD-Infused dip pouches.
Conclusion
Cannadips CBD-infused dip pouches are available on the brand's website at cannadipscbd.com or cannadips.eu. The brand's products are strictly recommended for ages 21 years and above.
A disclaimer on the brand's website states that Cannadips CBD products' efficacy has not yet been evaluated by the Food and Drug Administration (FDA).
The side-effects of CBD need to be considered before trying Cannadips CBD-infused dip pouches. Some possible CBD oil side effects include dry mouth, diarrhea, drowsiness, fatigue, and reduced appetite(11).
---
Hobbs, J. M., Vazquez, A. R., Remijan, N. D., et. al., (March 2020), Evaluation of pharmacokinetics and acute anti-inflammatory potentials of two oral cannabidiol preparations in healthy adults, retrieved from

https://onlinelibrary.wiley.com/doi/abs/10.1002/ptr.6651

Ibid.

Congressional Research Service, (March 2019), Defining Hemp: A Fact Sheet, retrieved from

https://fas.org/sgp/crs/misc/R44742.pdf

Zhang, QW., Lin, LG. & Ye, WC. Techniques for extraction and isolation of natural products: a comprehensive review. Chin Med 13, 20 (2018).

https://doi.org/10.1186/s13020-018-0177-x

Congressional Research Service, Op. Cit.

Moodie, R., Stuckler D., et. al., (2013), Profits and pandemics: prevention of harmful effects of tobacco, alcohol, and ultra-processed food and drink industries, retrieved from https://www.sciencedirect.com/science/article/pii/S0140673612620893?casa_token=MSt5trJeOP0AAAAA:dGHmVJah1yO792MoSItt4MunmZXAc9k32z3z0_sSt9DIM2ExZZwQ-iXG4lRYLfQffaujwf_qw5K8

Ibid.

Lexaria Biosciences Corp, (n.d.), A global innovator in drug delivery platforms. Patented DehydraTECH™ drug delivery technology changes the way Active Pharmaceutical Ingredients enter the bloodstream, retrieved from

https://www.lexariabioscience.com/wp-content/uploads/2019/08/DehydraTECH-2-Pager-Information-Sheet.pdf

Ibid.

United States District Court, (March 2020), Solace Enterprises, LLLP vs. Case Mandel and Trinidad Consulting LLC, retrieved from

https://www.scribd.com/document/450182835/De-1-Complaint
CBD Clinicals is reader-supported. When you buy through links on our site, we may earn an affiliate commission. Learn more